Today I would like to introduce you to the 'Prizeotel' – the first budget designer hotel in Bremen!
It has been voted as one of the 7 most charming and stylish hotels under 100 euro in Germany and has an outstanding design affordable to all!
It opened up in February 2009 and already got numerous awards- for example the Design price "Red Dot Award" in the "Architecture and Interior Design" category.
The first second I got there I recognized the Pop-Art-style, which immediately reminded me of the 'nhow hotel' in Berlin.
And…surprise, surprise: after asking the friendly woman behind the reception desk I got to know what I was already suspecting! The modern hallmark is the same! It's the one of the world renowned Karim Rashid!
Normally, to be honest – I prefer darker colors and warm materials! But the Prizeotel with its 127 fully air-conditioned rooms still serves exactly the needs of cost-effective business and city travelers.
So if you are not afraid of colors but you love details, like an ilamp with integrated speakers and an iphone connection, you should definitely check out this amazing place with the large open and white spaces and the accents of strong positive colors!
The lobby area encompasses a bar, internet station, buffet and outdoor terrace.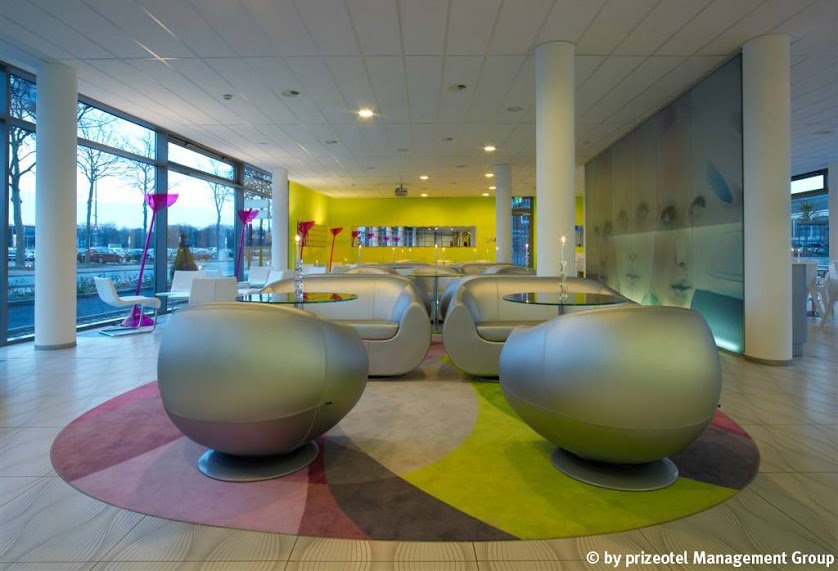 Upstairs, the tactile wallpaper coats the hallway. Custom carpets along the corridors display room numbers.
The rooms were designed following the guiding 'have less but better furniture'. They provide all the needs and details of a high end boutique hotel while creating a unique experience and a high level of sleeping comfort!
It also has high quality bathrooms with rainforest shower heads.
All pictures from: http://www.prizeotel.com/en/
The Prizehotel is a perfect hotel for individualist who are feeling home wherever they are able to take their smartphones and their trolley bags – and who are bored with traditional hotels!
Further locations are already planned for 2013 in Hamburg and Hannover and afterwards in Berlin, Düsseldorf, Cologne and Munich.
  by Mo Goshtasb