I have found this very special natural spa collection in one of my favourite places in Berlin: Jack´s Beauty Department.  That's the only company in Germany that offers Karmameju products.
The '100% Spa' is a natural spa collection designed to nurture and protect your body, mind & spirit.
It is made without the use of parabens, PEGS, animal products, synthetic perfumes & colours, petrochemicals or silicone.  I love the 'Balm' or the 'Konjac Sponge', the Handwash & Handlotion is amazing, the 'Exfoliant Balm Scrub' works like a dream and the natural candles smell divine.
Have a look at these brilliant products and fall in love as I did!
JACKS Beauty Department
Sredzkistraße 54 // 10405 Berlin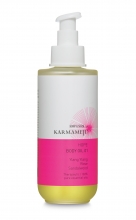 Keep you skin smiling!