Winter is coming and it's getting colder, but with some creative ideas you can keep it warm and be stylish this season!
I have seen it on the runway as well as in the high street shops; leather and fur are the essentials for our winter wardrobe. They might seem dominant but we can make it look classy. Easy to wear, they will definitely keep you cosy and up to date.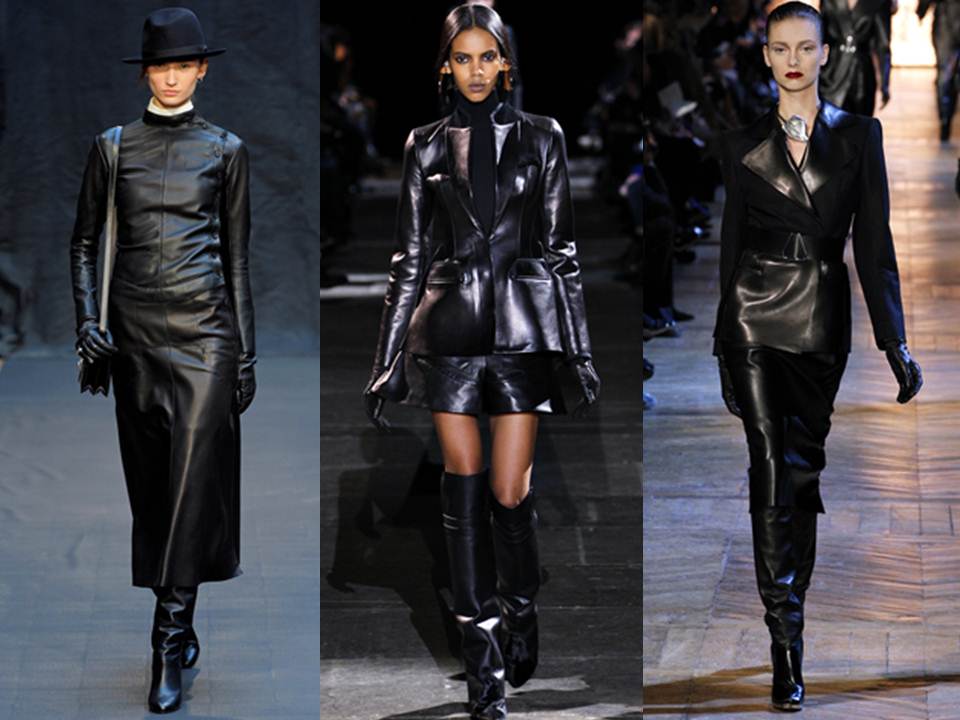 Resource: http://bit.ly/PU7KR7
On the Runway a full leather outfit at the Hermes, Yves Saint Laurent and Givenchy fashion shows.
Although it creates an amazing silhouette, I prefer just a touch of leather much more. It still gives the similar effect of a bold look, but in a gentle way.
Resource: http://bit.ly/SVol4L
Resource: http://whatisinmyworld.com/2012/10/01/leather/
Calvin Klein and Celine are my choices!
Resource: http://www.comptoirdescotonniers.co.uk/deu/home_DE.aspx

Colored leather is also big this season. I recommend "Comptoir des Cotonniers" a French brand with some nice and affordable pieces. Just like the golden skirt, presented in a discreet and classy way.
Fur is another winter "must have item". A lot of fashion designers presented them in a funky way.
Resource: http://bit.ly/ZJfwPL
Have a look at the Juicy Couture, Jean Paul Gaultier and Tom Ford ideas.
Resource: http://bit.ly/TIZjXe
Resource: http://www.fabsugar.com
When it comes to everyday style, I tend to use fur as an accessory. A fur collar for example dresses your neck in a very sophisticated way.
You can find plenty of these for affordable prices on the high street. Topshop offers a range of colors in various shades.
Resource: http://www.popsugar.com
Of course you don't have to choose between leather and fur; you can combine these two and create a great up to date outfit! Look what Kate Moss came up with!!! I love it!
I can't wait to share some more fashion news with you next week. Until then, have a fabulous weekend!
Au revoir!
Victoria