Argan oil is derived from the nut of the fruit that comes from the Argan tree, which can only be found in Morocco.  It is mostly known for its effect on the hair, but can be used for almost everywhere else including the scalp, face, body and hands. It can also be eaten.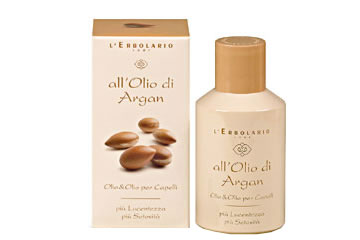 Hair: Argan oil is fantastic, almost magical at dealing with frizzy and hair damaged from colouring, overdrying or styling. It adds moisture and will also add a little shine, which always makes the hair look healthier. Apply to your hair whilst damp for an all over treatment or apply at the end of styling to fix dry or split ends.
Scalp: If you have a dry or itchy scalp, massage a small amount of oil directly onto your scalp before going to bed. It will have plenty of time overnight to moisturise your scalp (make sure you put a towel or something to protect your pillow) and wash your hair in the morning.
Face: You might feel a little nervous to apply an oil directly to your face, especially if you have finickety skin but don't worry, the Argan oil will completely work for  your skin, leaving it smooth, clear and radiant. Use it as you would your daily moisturiser.
Body: You can use Argan oil as an all over body moisturiser, especially on your knees, ankles, elbows etc. For best results apply directly after coming out of the bath or shower onto damp skin.
Hands: Argan oil is great for your hands, especially at this time of year, when they might be a little sore or rough from the cold. Apply to everywhere including your cuticles and nails if they are prone to cracking or peeling. Again you will see an immediate change in your hands.
Resource: All pictures from http://www.herbathek.com/. Presented products: Erbolario
Argain oil comes in many products, not just as the pure oil.  You can find plenty of good and varied ones at my favorite shop:
Herbathek, Kollwitzstrasse 76, Berlin-Prenzlauer Berg, Berlin.